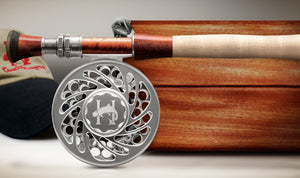 Matador
The Hemingway Saltwater Bamboo Fly Rod Kit
Sale price Price $5,200.00 Regular price Unit price / per
The Ernest Hemingway Bamboo Fly rod kit 
The Limited Edition Ernest Hemingway
The Ernest Hemingway saltwater bamboo kit includes:
Handmade 9wt-8ft, 2 piece Tonkin bamboo saltwater fly rod
Signature Hemingway Reel 8 and 9 weight. 

Aircraft grade 6061 T651 AL Type II Anodizing 20mµ

Rod display: made from tropical hardwoods (Sapele, West Indian Mahogany, and Spanish Cedar).
Hemingway branded aluminum rod tube (black) with silver cap and bottom with three pocket rod sock.
Numbered certificate of authenticity, proofed and signed by a member of the Hemingway estate. 
Handcrafted in Naples, Florida, along the coast of the Ten Thousand Islands and Everglades National Park. Whether you're fishing the mangroves, casting along the shoreline or stalking the flats, the limited-edition Ernest Hemingway bamboo fly rod is designed to be both functional and elegant.
While some may consider the kit a collector's item, The Ernest Hemingway limited edition bamboo fly rod is created and designed for real-world use. 
Handmade in Naples, Florida.
9wt. Ernest Hemingway Saltwater Bamboo Fly Rod

Length:  9wt-8ft, 2 piece.
Material: Tonkin Bamboo Color: Medium Brown  hand flamed or tiger stripe flame
Taper: Hemingway Mangrove
Hardware: Up locking Titanium Reel Seat
Reel Spacer: Quilted Spanish Cedar or West Indian Mahogany
Grip: Full Wells with Portuguese Flor Cork and stabilized base made of West Indian Mahogany - Swientenia mahagoni.
Fighting Butt: West Indian Mahogany trunk 1.5" with non-skid rubberized cork base.
Ferrules: Super Swiss Nickel Silver wrapped with #100 Black Kimono Japanese Silk Thread.