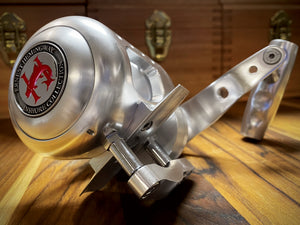 Matador
On Sale - Ernest Hemingway Signature EH20 MATADOR II
Sale price Price $615.00 Regular price Unit price / per


The Ernest Hemingway™ EH20 MATADOR II, is the latest the updated series to our our original popular EH20 Matador. The Matador II Ernest Hemingway Signature Series  is the ultimate size 20 conventional reel, it's performance and durability are unmatched.  The EH20 has become a favorite reel for angler worldwide. Designed for the use of either monofilament or braided line. The EH20 is light, compact, and powerful. With a smooth progressive, all sealed multi-disc drag system, the EH20 has the stopping power to turn the head any battling fish. With a gear ratio of 1: 6.2, and ergonomically offset aluminum T bar handle, ensures comfort, and a secure grip for the long fight ahead. One-Piece, machined 6061T aluminum frame. The EH20 is created with NO plastic parts internally or externally. All Hemingway® reels are designed and created to for the long haul. The Ernest Hemingway™ EH20 Signature reel also has a patent pending free-spool braking system that is activated by pressing the reel's side plate to prevent over spooling.
The Ernest Hemingway™ EH20 comes in a presentation mahogany reel case with all brass hardware, with Ernest Hemingway™ Inshore 100% pewter emblem on top.
Line Capacity: 350 Yards 20 lbs./mono / 450 Yards PE3
Gear Ratio: 1: 6.2
Weight: 0.680 Kg
Max Drag: True 38 lbs. at full, and 35lb at full strike
Ball Bearings: 6
Reel Seat Clamp
Made in Italy.