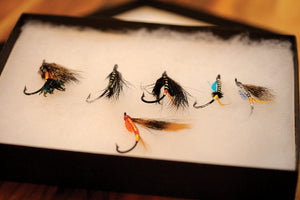 Matador
Atlantic Salmon Set
Sale price Price $49.95 Regular price Unit price / per
The Ernest Hemingway ™ Atlantic Salmon Fly Set. A salmon fly is a thing of beauty. Artfully tied with the finest fly-tying materials, Salmon fly patterns are always vibrant. The design patterns of the Salmon fly come from historical fishing waters in England and France. A good salmon fly will also be tied in various bright colors to match the different water conditions throughout the year.
Atlantic Salmon Collection Set:
Blue Charm; Size 1/0
Blue Charm White; Size 1/0
Black Bear Green Butt: Size 1/0
Black Dose Restigouche: Size 1/0
Copper Killer: Size 1/0
Rusty Rat: Size 1/0
Product Details: Six (6) Atlantic Salmon Flies, in black mate 7.25"x 5.75"x1.0"  box, with the Ernest Hemingway Inshore pewter logo. Weight: 1.2 oz.
Made in the USA.